About the artist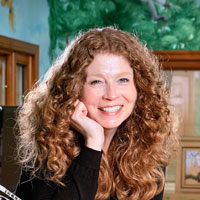 Christine Myshka credits the vivid writings of Edgar Allen Poe as her childhood inspiration to become an illustrator. She also spent numerous Saturday mornings sitting in front of the television, crayons in hand, drawing the characters from her favorite cartoon show,"The Superfriends Justice League".

From drawing the characters from the "Justice League" cartoon Christine became more interested in other types of art and artists. By high school Christine feel in love with the artworks of Roger Dean, Michael Whalen, Alan Lee, Alphosne Mucha, Gustave Klimt and Van Gogh, just to name a few. Music and literature was also and still remains a great source of inspiration for her. Using these inspirations to create artworks. It was at this point that Christine found herself increasingly drawn to the idea of becoming an illustrator. Christine poured all her creative energy in school to prepare herself to work in the "visual arts".
As part of her professional training, Christine attended Parsons School of Design, where she earned a BFA in Illustration. She continued her studies at Parsons Paris, Du Cret School of Art and Grand Rapids Community College program in Greece.
Christine has been freelancing as a professional artist since 1982. In carving out a career in the visual arts Christine has done illustration, architectural portraits, logo designs, screen designs and layout, fine art and murals. Some of her clients have included Davis Publishing Inc. Ideal Graphics Inc, The Home News & Tribune, Suburban Golf Club, Arcola Country Club, Rockaway River Country Club, T' Leon Advertising and EJs Bar and Grille as well as numerous commissions for private clients.
Professional Experience
1986 - present: Freelance Illustration and Visual Artist
Clients include: Crystal Clear Industries, Sprocket Labs,Inc., Chip Greenberg Photography, Monarch Towel Co., Davis Publishing, Inc., T`Leon Advertising, Ideal Graphics Inc., The Home News & Tribune, East Coast Anchor, EJ`s Bar & Grille, Rockaway River Country Club

Commissioned Artworks and Murals, Suburban Golf Club, EJ`s Bar & Grille, Cafe` Beyond, Crescent Park Recreational Facility, Arcola Country Club, The Scotch Plains / Fanwood Historical Society as well as numerous commissions for private clients.

Staff Artist and Instructor
Du Cret School of Art, Plainfield, NJ - Instructor, Life Drawing and Business of Art, Student Career Placement Counselor. 2003 to Present

Three Designing Women, Freehold, NJ - Murals, Decorative Painting and Faux Finishing Artist, 2002 to 2010
Somerset County Vocational Institute, Bridgewater,NJ Guest Speaker 2004
Continental Screen Printing, Brooklyn, NY - Created custom artwork for screen printing firm, along with layouts and positives for designs used by leading retailers of Children`s, juniors and young women`s clothing. 2/88 - 10/2088
Awards / Exhibitions
Best Black and White, "High Cross", Devilcon, 2003
Best Use of Technique, "Sultan Looking East", Philcon, 2002
Caras & Colleagues and The Du Cret School of Art Exhibition, Middletown, NJ, juried selection. 2012
Devilcon, Edison, NJ, artshow: 2002, 2003, 2004
Lunacon, Rye Brook, NY, artshow: 2004, 05, 06, 07, 08 09,10,11, 12 & 2013
Philcon, Philadelphia, Pa & Cherry Hill NJ, artshow: 2002, 03,04, 05,06,07,08,09, & 2010
Steampunk Comes to Swains, Swain Galleries, Plainfield NJ, October 2014
Education
Parsons School of Design, New York, NY - Bachelor of Fine Art in Illustration, 1987
Creativity Workshop, Prague, Czech Republic, Summer 2007
Grand Rapids Community College, Athens, Greece, painting & drawing, Summer 2001
du Cret School of Art, Plainfield, NJ, Plainfield, NJ, coursework includes drawing, computer applications. 1999 - 2002
Parsons School of Design, Paris, France, painting & drawing, Summer 1998


Articles
Memberships
Graphic Artists Guild